Shark™ Air Purifier 6 with Anti-Allergen Multi-Filter ADV Odor & Fumes Lock, XL Area, Smart Sensing
The Shark™ Air Purifier 6 with Anti-Allergen Multi-Filter uses Clean Sense IQ™ to constantly track air quality and auto-adjust power. It delivers clean air with 6 powerful, quiet fans and anti-allergen HEPA filtration w/ advanced odor & fumes protection. *Colors may vary.
The Shark Air Purifier 6
The Shark™ Air Purifier 6 with anti-allergen HEPA filter uses Clean Sense IQ™ to monitor air quality, adjust power, and report results, for all-day clean air confidence.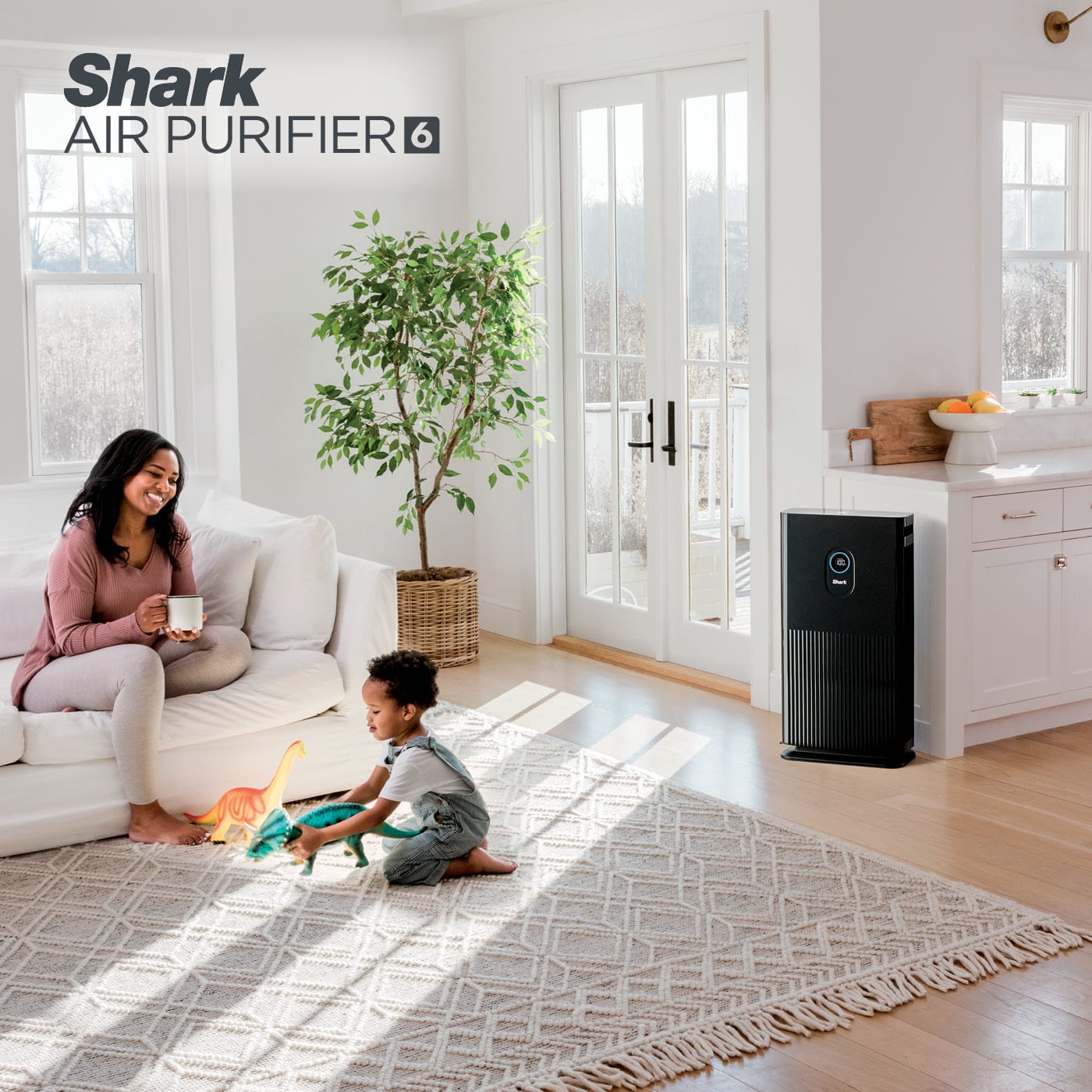 Clean Sense IQ
CleanSense IQ monitors your air quality and adjusts power to deliver clean air—then reports results you can see.
Air quality protection you can trust.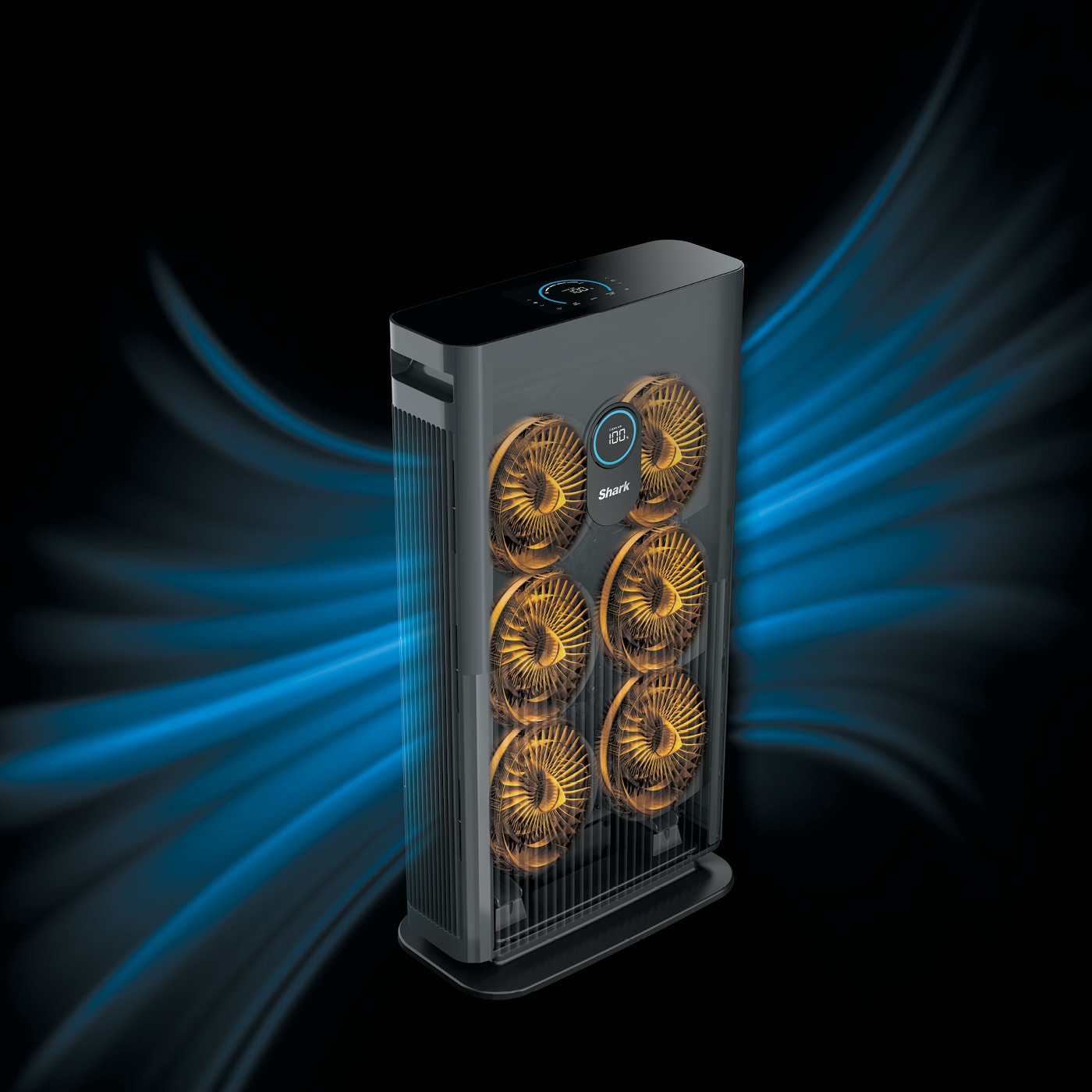 6-Fan Technology
Shark gives you a suite of high-speed micro-fans that work in tandem, evenly distributing airflow across the filter.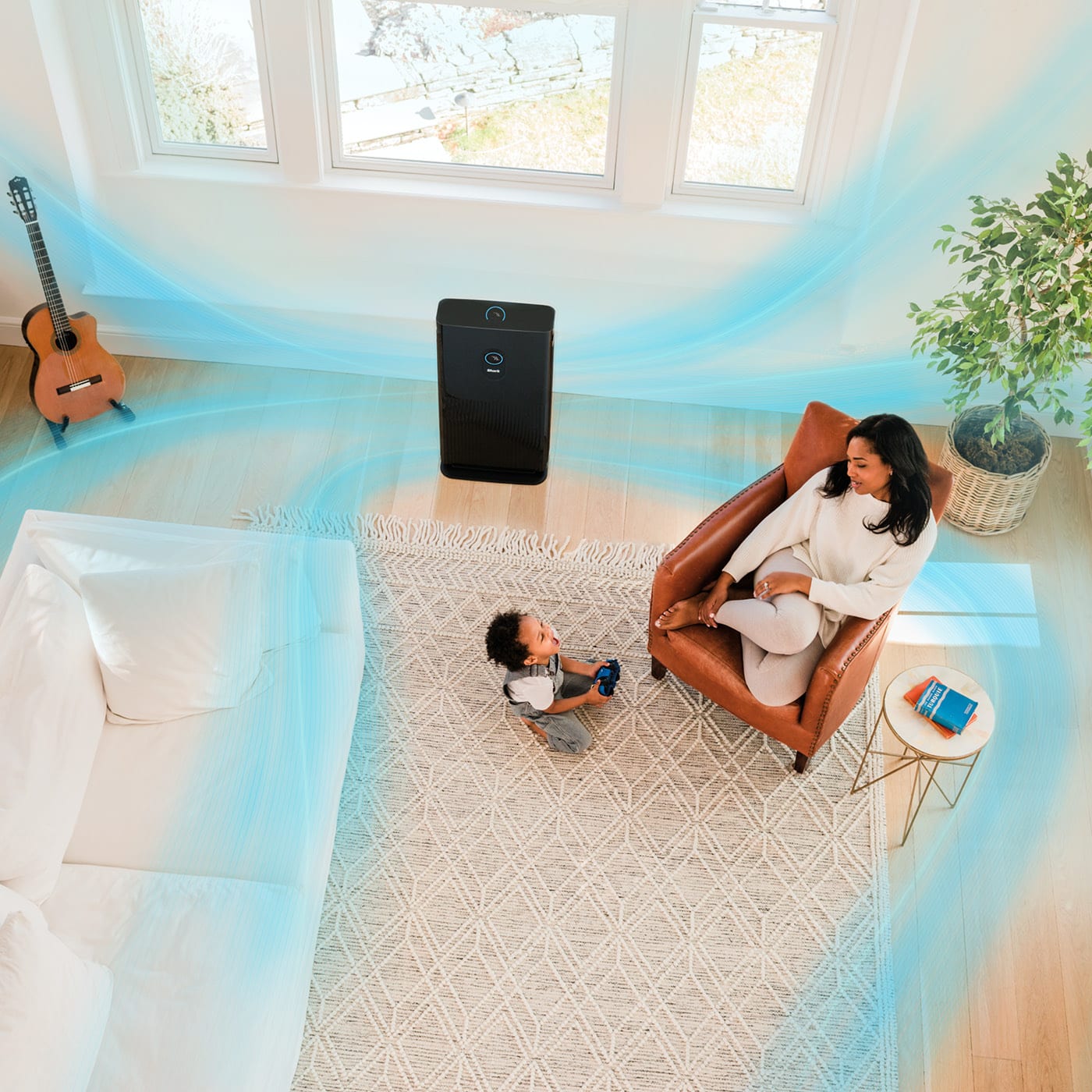 XL Room Coverage
Even in larger living rooms, Shark Air Purifier 6 delivers powerful coverage.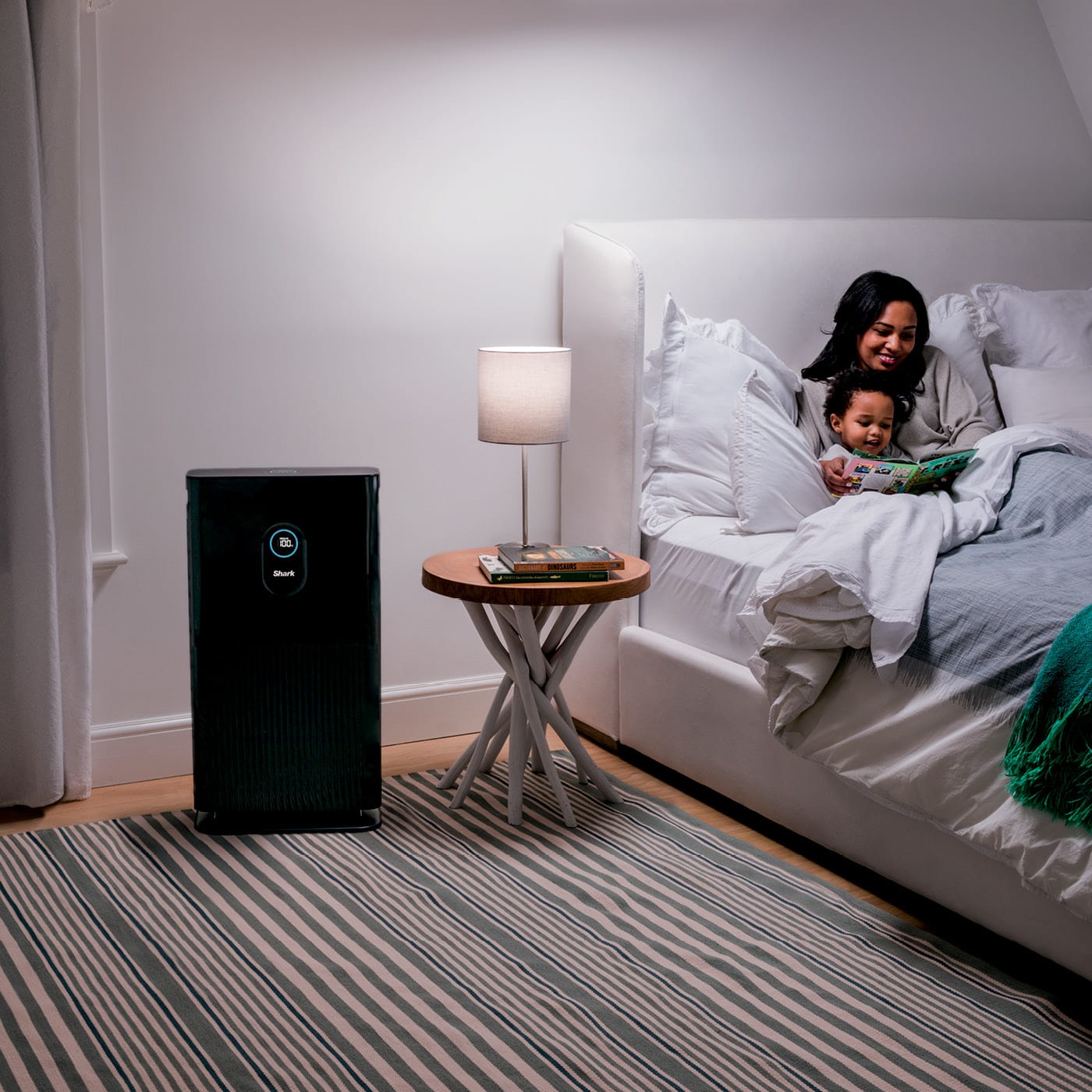 Quiet Power
Micro-fans function at a quieter volume than large, single fans, delivering a more calming clean.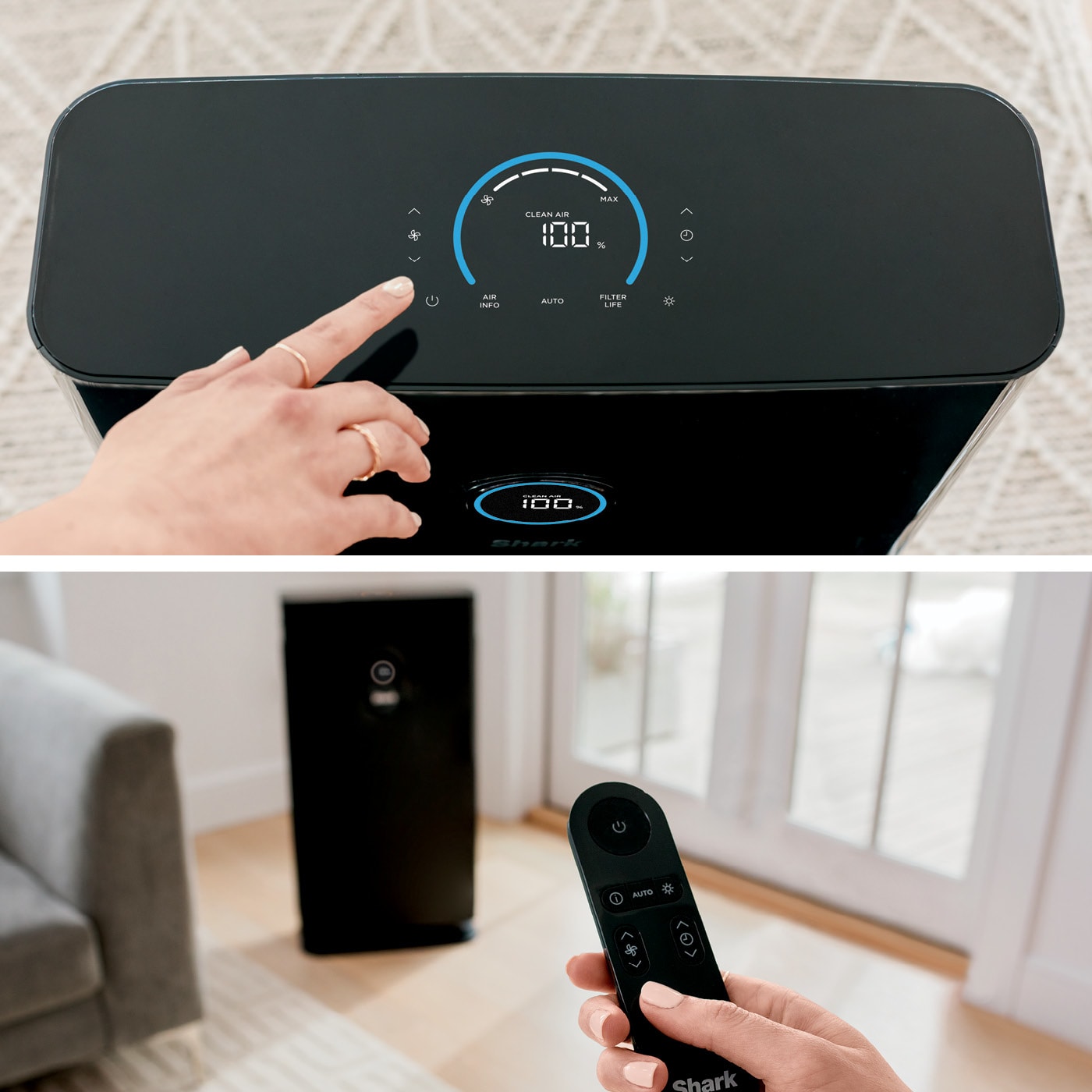 Easy-to-use interface
Customize fan speeds, power mode, brightness, and more with the touchscreen control panel or with the remote control.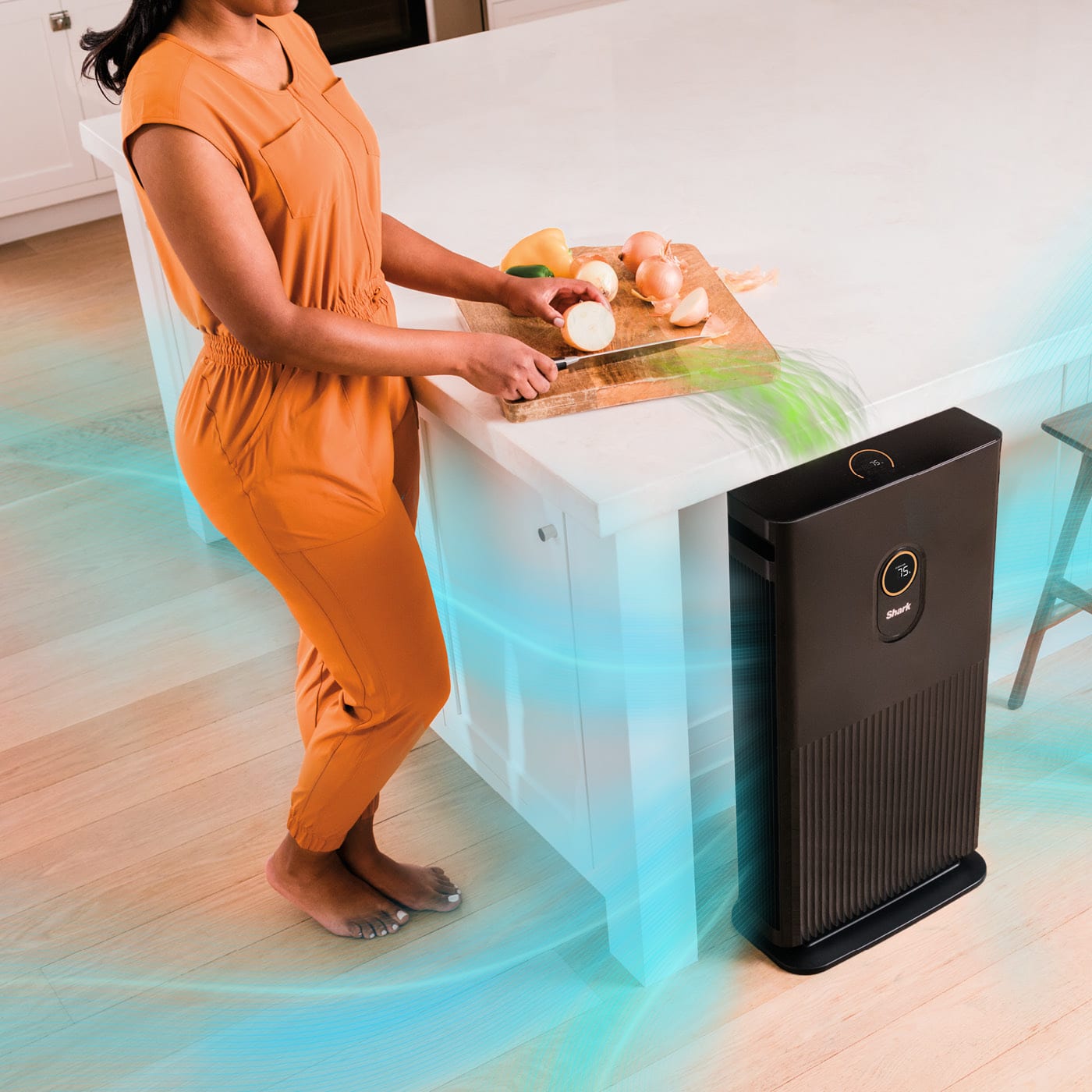 Real-Time Results
Shark's Clean Sense IQ tracks air quality, adjusts in real time, and continuously displays the results.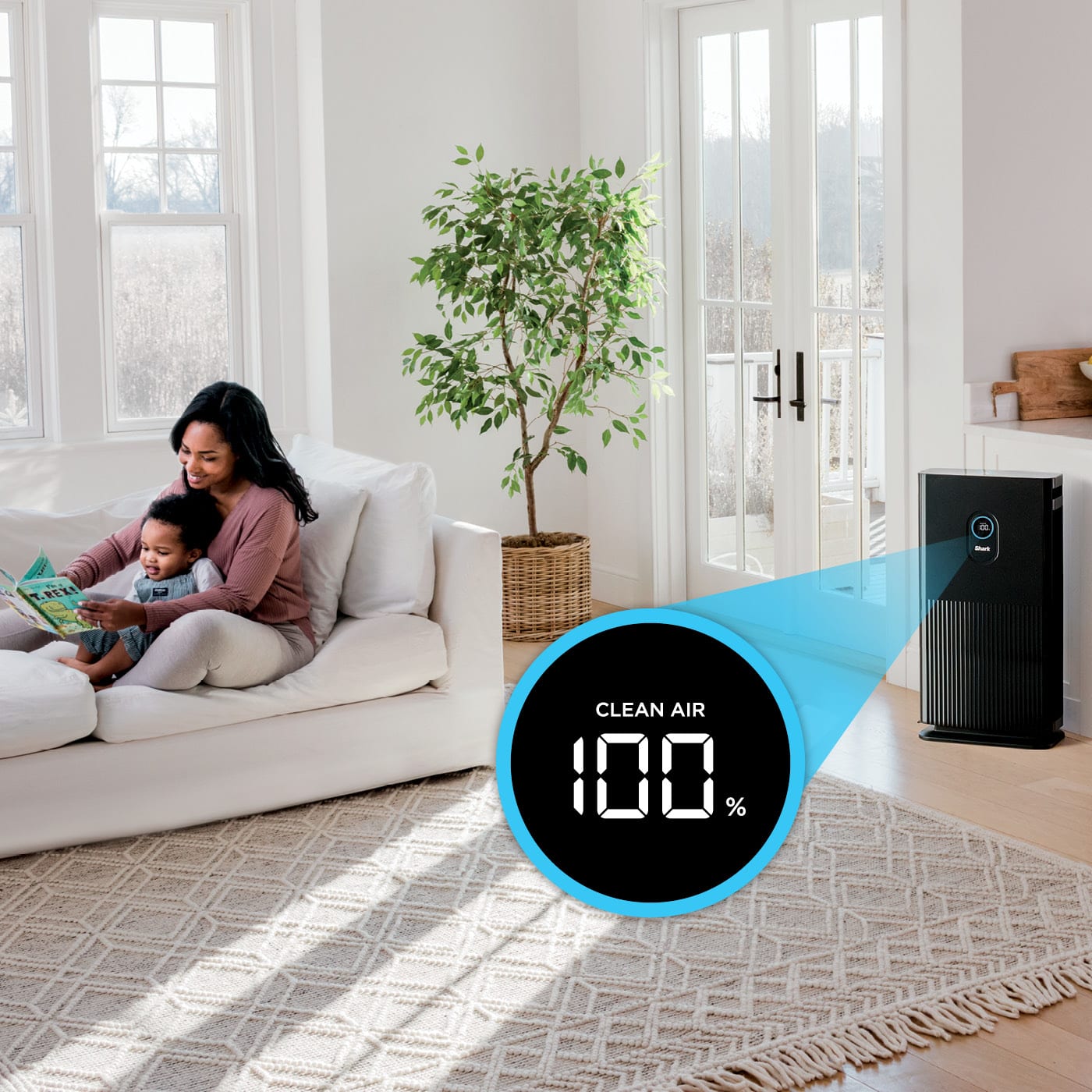 Clean Air Confidence
Real-time feedback gives you clarity and confidence in the air you and your family breathe.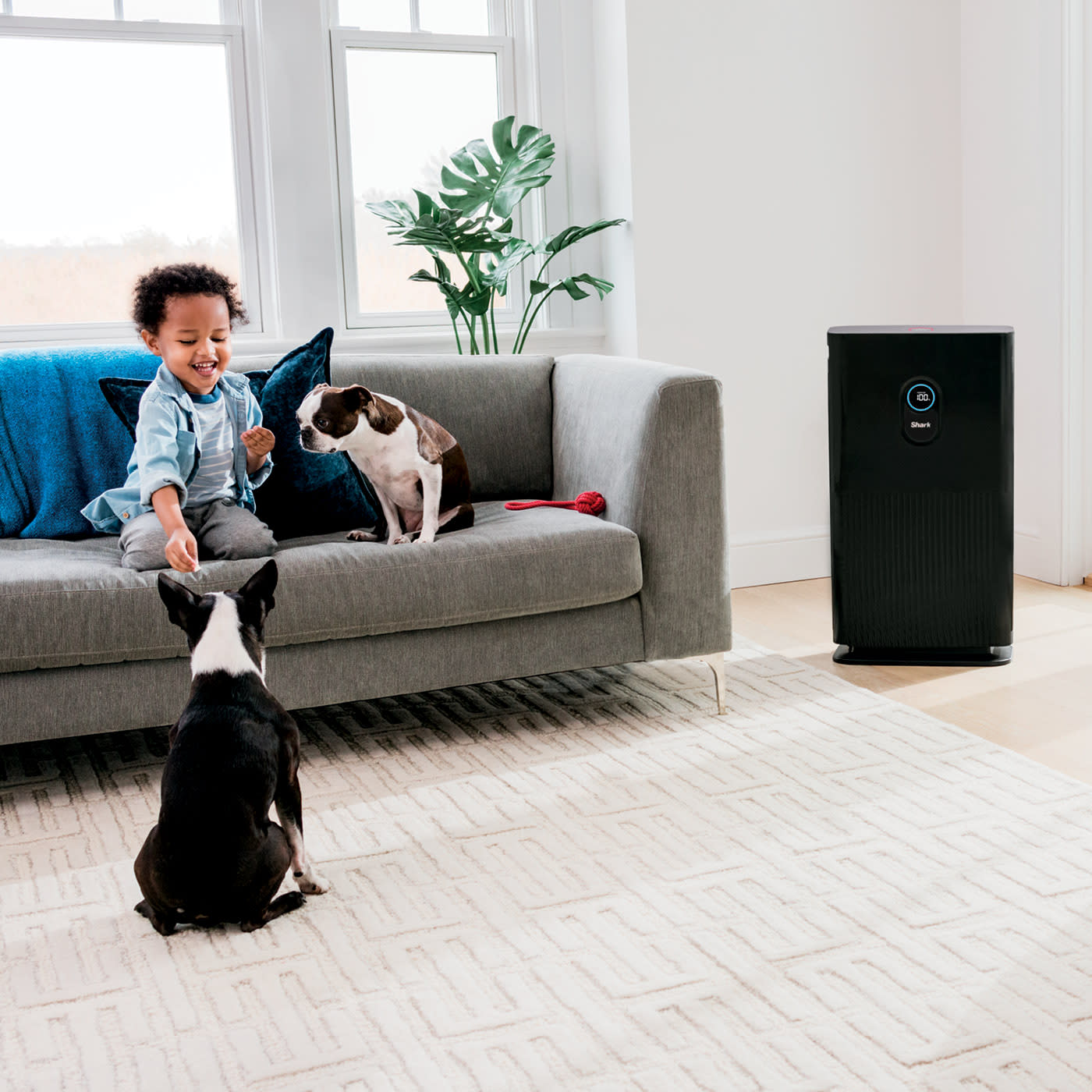 Perfect for homes with pets
Anti-allergen HEPA fi lter captures pet hair, dander, and allergens throughout your home.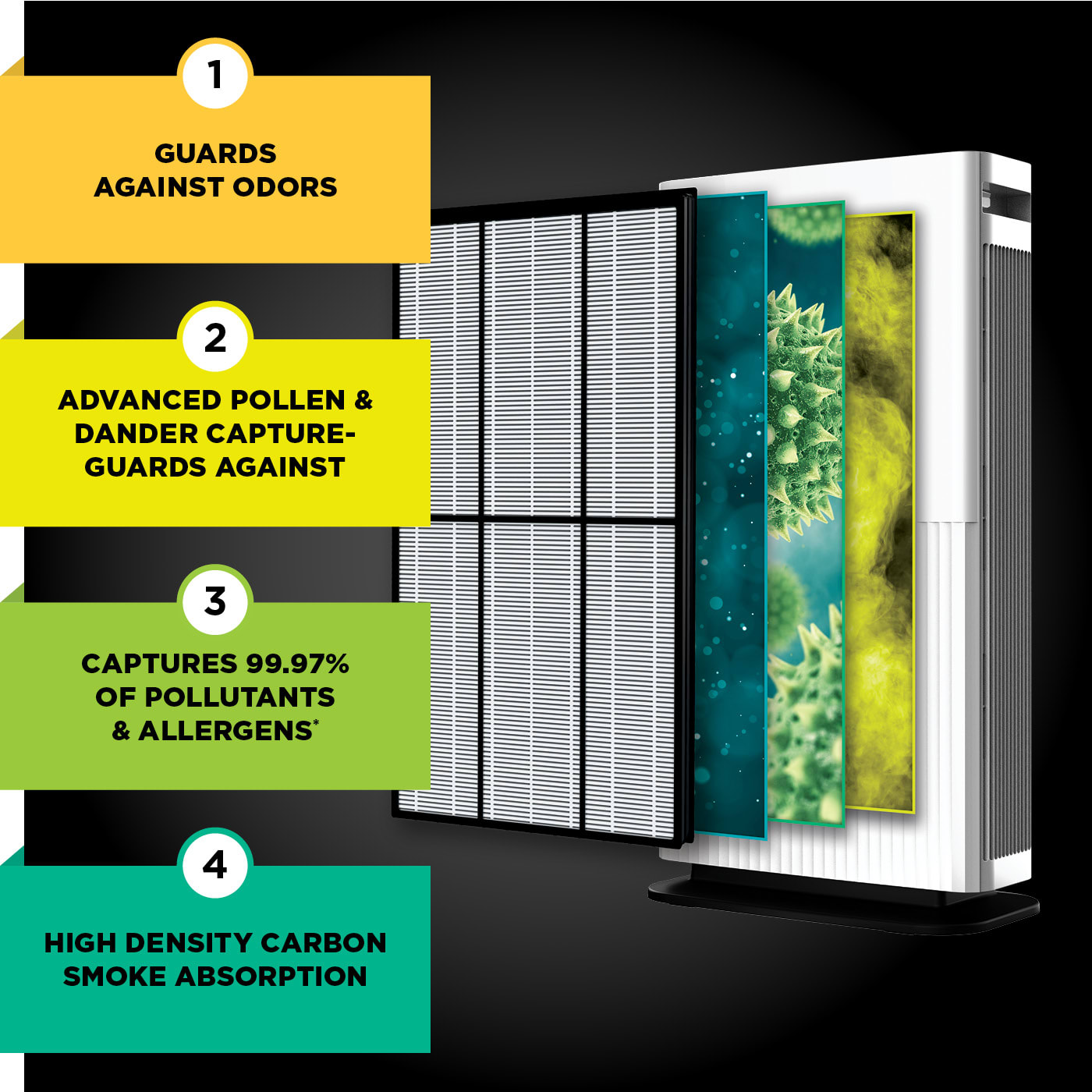 Shark Anti-Allergen Smoke + Odor
The Shark™ Air Purifier 6 quietly distributes air through 6 powerful fans. Clean Sense IQ™ technology tracks air quality and auto-adjusts power to constantly maintain clean air. A Shark™ Anti-Allergen HEPA Filter locks away airborne allergens, dust, dander, and particles.* Advanced Odor and Fumes Lock guards against cooking smells, smoke, paint, and more. Cleans large spaces.
• 6-FAN AIRFLOW: Shark gives you six high-speed micro-fans worktogether to evenly distribute airflow across the filter.
• ULTRA-FAST MEETS ULTRA-QUIET: Six high-speed fans provide a remarkably quiet clean, and an incredibly fast clean air delivery rate.
• TRACKS & ADJUSTS AUTOMATICALLY: Clean Sense IQ™ tracks air quality and auto-adjusts power to constantly maintain clean air in your home. The easy-to-use control panel displays data in real time.
• ANTI-ALLERGEN HEPA MULTI-FILTER: Shark's Anti-Allergen Multi-Filter captures 99.97% of dust, dander, allergens, smoke, and household odors.*
• HEIGHTENED ODOR PROTECTION: An advanced odor guard on the filter protects against household odors from cooking, cleaning products, and more.
• ADVANCED PROTECTION FROM HOUSEHOLD FUMES: The activated carbon layer protects your air from household fumes like formaldehyde.
• XL CLEANING AREA: 6 fans working together generate the power to purify up to 1,200 square feet.**
• REMOTE CONTROL INCLUDED: An easy-to-use remote gives you complete control from up to 15'.
• *Based on HEPA filtration standards of 99.97% filtration, down to 0.3 microns. **Based on one air change per hour.

| | |
| --- | --- |
| Cord Length | 1.83 m |
| Product Dimensions (cm) | 43.2 cm L x 22.6 cm W x 81.3 cm H |
| Color | Charcoal Gray |
| Voltage | 120 volts |
| Amperage | 0.91 amps |
| Wattage | 120 watts |
| Filter Type | True HEPA Multi-Filter with Advanced Odor Lock and Fumes Lock |
| Warranty (years) | 2 |
| Number of Batteries Included | 1 |
| Weight | 20.4390561246 lbs |
---
Free shipping on all orders over $75*
SharkNinja offers a 60-day money back guarantee for purchases from this Site, or for select products, a 90-day money back guarantee. The applicable money back guarantee will be stated with your order.

*does not apply outside of Canada. Orders to be shipped to Northwest Territories, Yukon or Nunavut or other territories outside of Canada or to an international address are subject to a surcharge.
---
Shark anti-allergen HEPA filter with advanced odor and fumes lock
Remote control
---
Does this air purifier have a HEPA filter?
Yes, this air purifier features a True HEPA filter that captures 99.97% of particles 0.3 microns or larger.
Does this air purifier reduce odors?
Yes, the Shark™ Air Purifier 6 filter is equipped with activated carbon, which is designed to absorb household odors and VOCs (volatile organic compounds) such as formaldehyde, acetone, and butanol.
How does this product clean my air?
The Shark™ Air Purifier 6 is equipped with a 3-stage HEPA filter that is designed to capture 99.97% of particles 0.3 microns or larger, odors, and VOCs. The 6-fan structure pulls air through the back of the unit and passes it through the HEPA filter. Particles such as smoke, mold, and allergens are then trapped in the HEPA filter, allowing only clean air to pass out the side vents.


What is PM?
PM stands for particulate matter. These particles are microscopic solids or liquid droplets that are suspended in your air and can be inhaled and cause serious health problems.

Using Clean Sense IQ™, the Shark™ Air Purifier 6 tracks 3 distinct particle sizes: PM1.0, PM2.5, and PM10. Each of these particulate sizes corresponds to common household pollutants.

PM 1 includes ultra-fine allergens and viruses
PM 2.5 includes smoke and bacteria
PM 10 includes dust, pollen, and mold
How can I tell if my air is clean?
The illuminated air quality rings on the front and top display screens will change color as your air quality changes.

The ring color indicates the air quality:
Blue = good air quality
Amber = fair air quality
Red = poor air quality


By pressing the AIR INFO button on your unit or the info icon on the remote, you can switch between air quality view options. Options include percent clean, time to clean, and the amount of PM1, PM2.5, and PM10 particles in the air surrounding the unit.
---